…What could be the common language in Aselia and what about this Ancient Angelic language?
We know from the signs in Iselia and Lloyd's wanted poster that they use a stylised Latin script in everyday life. The common, modern day language seems to be close to English if we take said signs and everyone's names into account, Irving, Wilder, Bryant, Brunel, Sage, Combatir, it's all European in origin (English, French and Spanish respectively). Why not Japanese? Apart from the fact that all signs appear to be written in English, Sheena is the only main character with a Japanese name and is from a secluded village of Japanese inspiration, with it's own culture and probably it's own language, let's call it
Japanese
Mizuhan. Cruxis ensured that the language evolved similarly in both worlds, with only slightly different accents and slang easily mistaken for regional dialects.
So far, we have a Medieval/Renaissance setting of European influence, surprisingly lacking in Norse references for something so heavily based on Norse mythology; unless we look at the organisation lead by a 4,000 years old guy who grew up in the period during which what we know as Ancient Angelic was the common language. Thanks to
Arredoval
, we know that the Renegade bases are covered in Elder Futhark runes, Elder Futhark being the Proto-Norse alphabet. Nice touch to add in something based on Norse mythology, right? Except that Heimdall, Yggdrasill, Ymir, Niflheim, everything that has to do with the Elves, the first society to inhabit the land, is Norse in origin. Not Sylvarant, Yuan Ka-Fai is Chinese. Not Tethe'alla, Kratos Aurion is Greek. Only the Elves, the culture most likely to be at the origin of written language and to have transmitted language to the early humans, are Norse.
Those evidences lead me to believe that the Ancient Angelic language or Old Aselian, the original language of the Elves spoken at the time of the Kharlan War, is Proto-Norse, complete with it's own little twist on the Elder Futhark:
(The chart is based on Arredoval's screenshots and each runes were drawn to match the ones seen in the Renegade bases as closely as possible. You're free to use it as a reference for fanart and such, all I ask is that you credit me and don't repost it.)
Barring some exceptions, most of the runes seen in the Renegade bases translate to gibberish. So far, it has been theorised that "musof" (sometimes followed by "mou(ei)" like under the Gamecube) which appears over the entrance, on crates, doors, walls and generally unsafe-looking places, means something akin to "Caution" or "Danger" and "rf(th)bo gowifr", which is written on all the blue orbs, could stand for "Press to activate" or something similar. It's also worth mentioning that "ru(ei)wg teoformf" is written in the Rheiard launching corridor. Based on the context and the fact that those particular words only appear in this room, "ru(ei)wg" might mean "Rheiard", as for "teoformf", the possible meaning is still unclear.
So, how do we write stuff?
The Ancient Angelic alphabet (also known as Old Aselian or Renegade Runes) is based on Elder Futhark and contains 24 runes associated with a Latin equivalent and one or several symbols of the
International Phonetic Alphabet
(IPA). The proposed rules were elaborated based on my observations of the Renegade runes in context and my knowledge of Elder Futhark.
Words are transcribed phonetically, relying heavily on the IPA system - many online dictionaries, such as
The Oxford Learner's Dictionaries
, include phonetic transcriptions. As the widely accepted way of transcribing words using Elder Futhark is approximative, some liberties can be taken if a different rune than the one proposed represents a particular sound more accurately, as long as the transcription remains consistent throughout the text. Double and silent letters are skipped, there is no punctuation marks and hyphenated or apostrophized words are written as a single word; for example, Derris-Kharlan becomes [ᛞᛖᚱᛁᛋᚲᚨᚱᛚᚨᚾ] d-e-r-i-s-k-a-r-l-a-n and Tethe'alla becomes [ᛏᛖᛏᛖᚨᛚᚨ] t-e-t-e-a-l-a. Line breaks separate quotes from the rest of the text.
Note that the runes used in this post are the closest match found in the
Runic Unicode block
, refer to the chart above for the correct way of drawing the Renegade runes.
The 24 basic runes are as follow:
[ rune ] -Latin equivalent- (corresponding IPA symbols) notes and examples
[ ᚨ ] -a- (ɑ:/æ) a as in c
a
t
[ ᛒ ] -b- (b) b as in
b
ook
[ ᛞ ] -d- (d/ð) d as in
d
og, th as in
th
e,
never th as in throne
[ ᛖ ] -e- (e/ɜ:) e as in
e
nd, a as in
a
/
a
n, ea as in l
ea
rn
[ ᛓ ] -f- (f) f as in
f
ate
[ ᚷ ] -g- (g) hard g as in
g
et
[ ᚺ ] -h- (h) h as in
h
all
[ ᛁ ] -i- (ɪ/i:/ɪə) short i as in s
i
t, ee as in sl
ee
p, ea as in s
ea
l
[ ᛃ ] -j- (j/dʒ) j as in
j
ourney, soft g as in an
g
el, consonant y as in
y
ear,
never vowel y as in myth
+ only [ᛃ] -j- is used,
never written as [ᛞᛃ] -d-j-
[ ᚲ ] -k- (k) hard c as in
c
ave, k as in
k
ill
[ ᛚ ] -l- (l) l as in
l
ife
[ ᛗ ] -m- (m) m as in
m
an
[ ᚾ ] -n- (n) n as in
n
ame
[ ᛟ ] -o- (ɒ/aʊ/oʊ) o as in
o
ld
[ ᛈ ] -p- (p) p as in
p
air
[ ᛝ ] -(ng)- (ŋ) seamless ng as in si
ng
er, ki
ng
,
never written as [ᚾᚷ] -n-g-
+ broken ng as in fi
ng
er would be written [ᛝᚷ] -(ng)-g- ([ᛓᛁᛝᚷᛖᛉ] f-i-(ng)-g-e-z)
[ ᚱ ] -r- (r/ʳ) r as in
r
ed,
never a final r as in war
[ ᛋ ] -s- (s) s as in
s
un
[ ᛏ ] -t- (t) t as in
t
ale
[ ᚢ ] -u- (ʌ/ʊ/u:/ʊə) u as in f
u
n, oo as in f
oo
d, ou as in gr
ou
nd
[ ᚹ ] -w- (v/w) v as in
v
ery, w as in
w
ar
[ ᚦ ] -(th)- (θ) unvoiced th as in
th
rone,
never th as in the
[ ᛇ ] -(ei)- (aɪ) i as in l
i
fe, y as in m
y
, ei as in h
ei
ght
[ ᛉ ] -z- (z/ʒ/-r/-ʳ) z as in
z
one, s as in wa
s
, final r as in wa
r
+ the final r rule is disregarded in plural or possessive forms, for example, tower becomes [ᛏᛟᚹᛖᛉ] t-o-w-e-z but towers or tower's becomes [ᛏᛟᚹᛖᚱᛉ] t-o-w-e-r-z
* (ə), (ɔ:) and (ʊə) vary too much in pronunciation to be associate to a single rune, the vowel closest to the required sound should be used
Some useful rune combinations includes:
[ ᛖᛁ ] -e-i- (eɪ/eə) ei as in w
ei
ght, ea as in gr
ea
t, a as in g
a
te, ay as in d
ay
, ai as in
ai
r, s
ai
d
[ ᛟᛁ ] -o-i- (ɔɪ) oy as in b
oy
, oi as in ch
oi
ce
[ ᛋᚺ ] -s-h- (ʃ) sh as in
sh
are, ch as in
ch
ef, t as in na
t
ion
[ ᚲᛃ ] -k-j- (tʃ) ch as in
ch
ur
ch
, tch as in ki
tch
en,
never written as [ᛏᚲᛃ] -t-k-j-
[ ᚲᛋ ] -k-s- (ks) x as in ta
x
ing
[ ᚲᛉ ] -k-z- (kz/gz) x as in e
x
ist
[ ᛃᚢ ] -j-u- (ju:) u as in
u
nicorn, h
u
man (the h remains [ᚺᛃᚢᛗᚨᚾ] h-j-u-m-a-n)
And finally, an example of the runes in context, using the Tales of Symphonia prologue: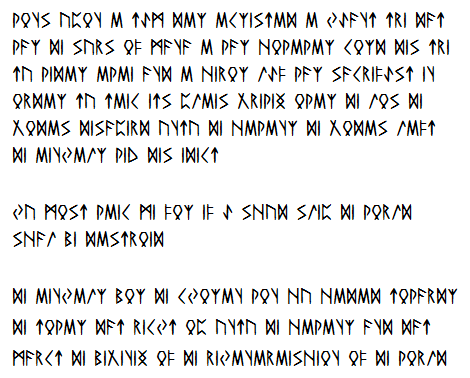 [
wons upon e t(ei)m dez ekzisted e j(ei)ant tri dat waz di surs of mana e waz howewez kozd dis tri tu widez ewei and e hiroz l(ei)f waz sakrif(ei)st in ordez tu teik its pleis griwi(ng) owez di los di godes disapird untu di hewenz di godes left di einjelz wi(th) dis idikt

ju most weik mi foz if (ei) shud slip di world shal bi destroid

di einjelz boz di kjozen won hu heded towardz di towez dat rikjt op untu di hewenz and dat markt di bigini(ng) of di rijenereishion of di world
]